Each program's talk is illustrated with beautiful compelling images and is followed by a powerful-guided meditation and one simple outdoor activity. These wellness programs are designed to provide information, insight, and tools to help each of us negotiate the challenges and rewards of connecting with our natural wisdom, anywhere, anytime -- no matter how rushed, messy, or stressful your life is!
---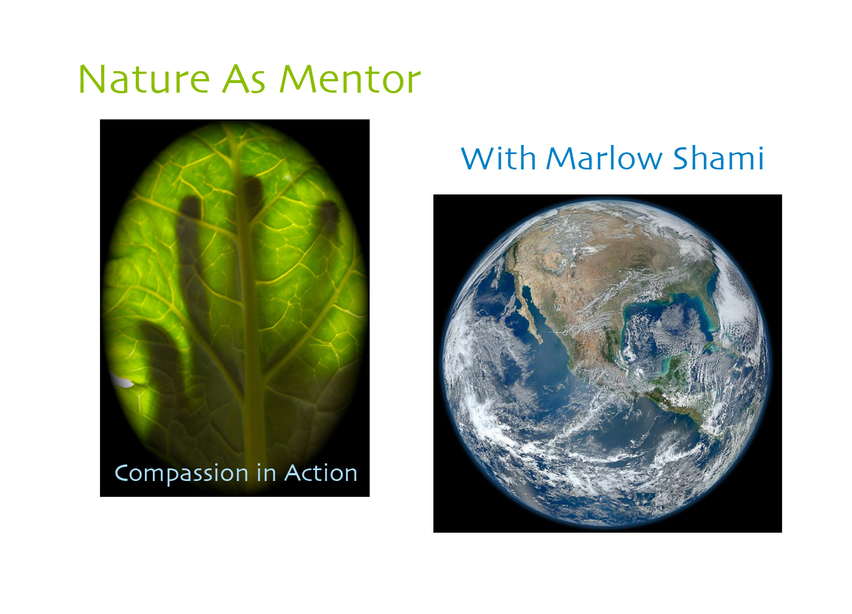 Listening to Nature, Your Mentor
Now is the time! Earth is calling us to listen.



Learn the magnificent language of nature in this powerful workshop. Discover your unique niche as part of our planet's restoration plan.

The wisdom of elder/earth-based cultures as well as recent empirical research in the fields of ecopsychology and environmental psychology, mindfulness-based stress reduction, meditation, and energy medicine, provide the foundation of this 90-minute program.

A beautifully illustrated Keynote talk, compelling wake-up out-of-door nature connecting activities, and a powerful guided meditation form this timely program.

Attendees acquire simple tools to access the guidance they seek and restoration needed for negotiating the challenges of daily life. Discover how to actively engage in caring for our shared home.


---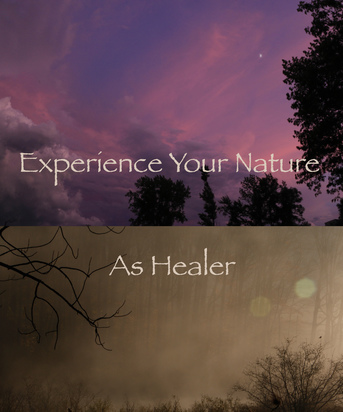 Experience Your Nature As Healer
Experience Your Nature As Healer
Discover how everyday-anywhere nature can: guide, calm, inform, and restore you. Nature can elicit a sense of restoration and protection, comfort and guidance.
Beautiful - compelling images support Marlow Shami's focus on the challenges and rewards of connecting with nature in a mass-technological culture.
Studies conducted over the past twenty years confirm what we know instinctually -- that contact with the natural world and meditation can lift your spirits, reduce anxiety, alleviate pain, increase brain function, and help cultivate a sense of belonging and compassion.
Nature is everywhere! This workshop's experiential activity component can be conducted in both urban, suburban, and rural areas.
---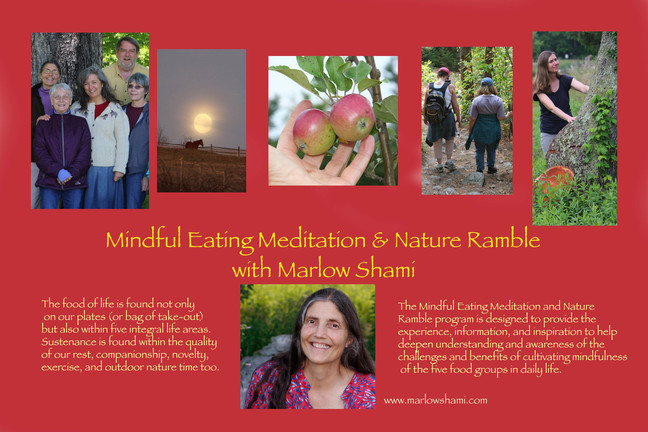 Midful Eating Meditation & Outdoor Ramble
After a short Keynote talk, enjoy a powerful guided meditation designed to support mindful eating, living, and deep relaxation. After the meditation, the group embarks on an outdoor journey. The experiential nature of this workshop is designed to enhance a deepening understanding of the five areas of sustenance we depend on in order to maintain a healthy body, mind, and spirit.
---
---