"Thank you so-much for speaking at our 2014 conference and running such a wonderful and powerful workshop experience. Looking at the evaluations you certainly touched the group deeply. I had a profound experience as well. May you touch many with your important and inspiring work!"
~ Laura Carey & Co-Chairs, New York State Outdoor Education Association

"I whole heartedly recommend Marlow's Healing in Nature workshop. She embodies and communicates meaningful mindfulness through her own innate life experience in a caring and giving way. As a practicing ecological artist and spiritual seeker, the tools and guidance that I received from Marlow will surely generate positive connections and outcomes for a long time."
~ Judith Kruger, Visual Artist, Educator, www.judithkruger.com

"For those of us who spend time in the outdoors, this presentation quickly brings to light the peace and tranquility that we often experience while focusing on Nature. Nature is a force that heals our minds and allows us to recharge. The photos, video, text and music blend beautifully in reminding us of what is out there in the forest and in our backyards. -- bringing us to a deeper level. I urge you to attend this presentation. You have everything to gain."
~Harry Ainsworth President, Litchfield Hills Audubon Society

"I have studied and observed nature all my life (I am 86 years old) but never thought of using nature to solve my problems. Hope to do that now that I have learned how to receive natures guidance."
~ Neva Jean Tyler "

Marlow inspired me to find ways of integrating the healing work into my field of wilderness therapy. She courageously and effectively presented a subject not readily accepted by our mainstream society. She presented the information in clear, relevant and understandable language."
~Chris Lamontagne, Student attending the Experiential Educators Regional Conference
---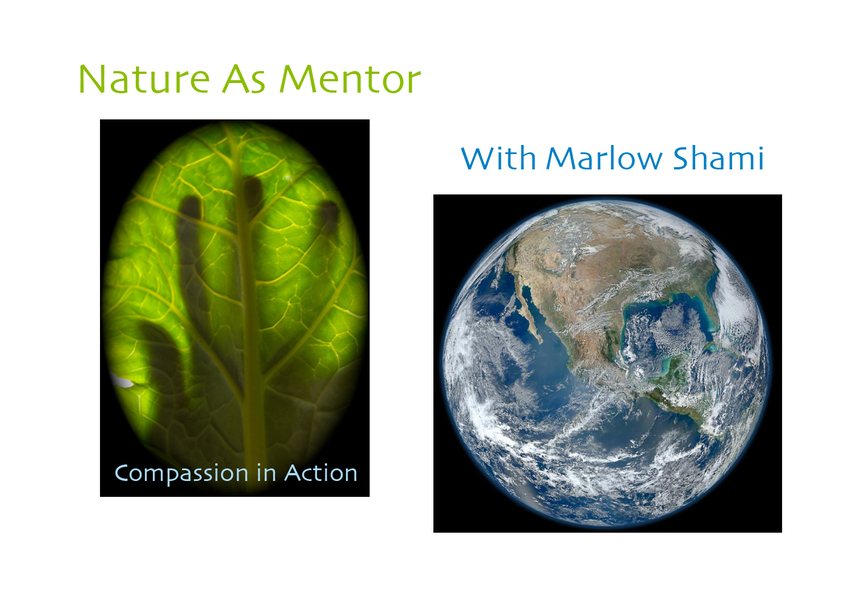 Nature As Mentor
Now is the time! Earth is calling us to listen.



Learn the magnificent language of nature in this powerful workshop. Discover your unique niche as part of the restoration plan.

The wisdom of elder/earth based cultures as well as recent empirical research in the fields of ecopsychology and environmental psychology, mindfulness based stress reduction, meditation, and energy medicine, provide the foundation of this 90-minute program.

A beautifully illustrated Keynote talk, compelling wake-up out-of-door nature connecting activities, and a powerful guided visualization form this timely program.

Attendees acquire simple tools to access the guidance they seek and restoration needed for negotiating the challenges of daily life and discovering how to actively engage in protecting our shared home.


---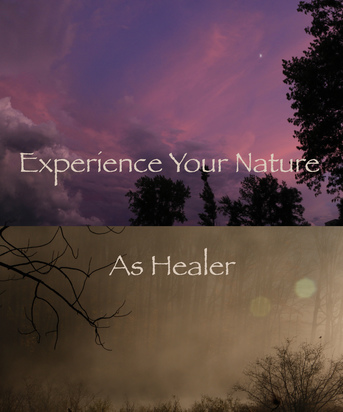 Experience Nature As Healer
"Thank you so-much for speaking at our 2014 conference and running such a wonderful and powerful workshop experience. Looking at the evaluations you certainly touched the group deeply. I had a profound experience as well. May you touch many with your important and inspiring work!"

Laura Carey & Co-Chairs, New York State Outdoor Education Association

A Power Point talk and experiential activity designed to inform and empower.

---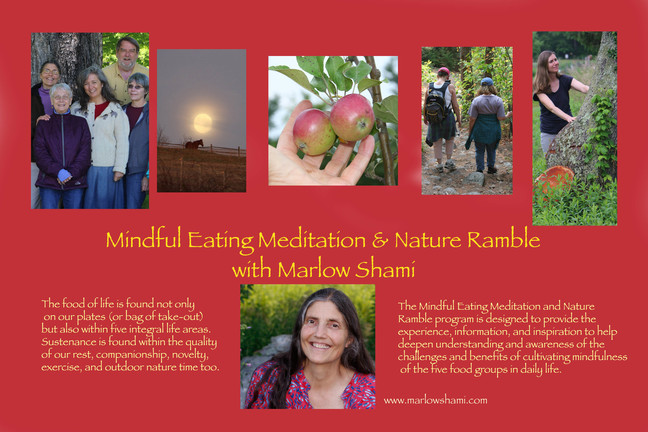 Relaxation With Nature's Meditations
"I saw nature's small details - like pictures and scenes within a picture. There were layers, all beautiful, all amazing. I too must be amazing being a part of nature".
~Bridgette Michaud, retired Director of Nursing
---
---